Sensei Cloud enables you to automatically post charges (and generate claims for US practices) when procedures are completed whenever administering an appointment, charting services rendered, or managing a treatment plan. The auto posting feature allows for a more efficient charge posting workflow and eliminates the need to remember to go back and post charges later on.
Auto posting settings must be enabled within the practice settings (Administration > Practice Settings > Financial Rules > Edit Financial Rules > Transaction Posting Rules).
The available auto posting settings are:
Post on Completion

Directly Post Associated Charge(s) & Create Claims (No Prompt)

You can enable the Post on Completion setting only, or you can enable both auto posting settings, which is the most automated option.
To enable auto posting:
Under Transaction Posting Rules, select Yes next to Post on Completion.
For Directly Post Associated Charge(s) & Create Claims (No Prompt):
-Select Yes if you want to bypass prompts and the ability to edit details.
-Leave this setting as No if you want to retain the ability to alter details before posting.
Click Save.
Note: Leaving these settings disabled will maintain the existing workflow in Sensei Cloud where completing procedures and posting the charges are separate steps.
Level 1: Post on Completion Only
When this setting is enabled, Sensei Cloud automatically prompts you to post charges whenever you complete procedures.
You can complete procedures from the following areas:
Patient Appointment (Location > Schedule > Appointment tile > Complete)
Patient Chart (Patient > Clinical > Hard Tissue Chart > Today's Appointment > Complete Appointment)
Note: In addition to the Hard Tissue Chart, you can also complete procedures from the patient's Clinical Chart (EMR) or Orthodontic Clinical Summary.
Treatment Plan (Patient > Treatment Plans > Plan Name > Edit Treatment Plan Details > Complete plan and procedures)
See How to Access the Location Treatment Plan List and How to Check-Out a Patient After Completing an Appointment for more information.
When you complete procedures, the Post New Charges window is displayed and you can make any needed changes prior to posting the procedures, such as adjusting the included procedures, service location, or the insurance policy to bill.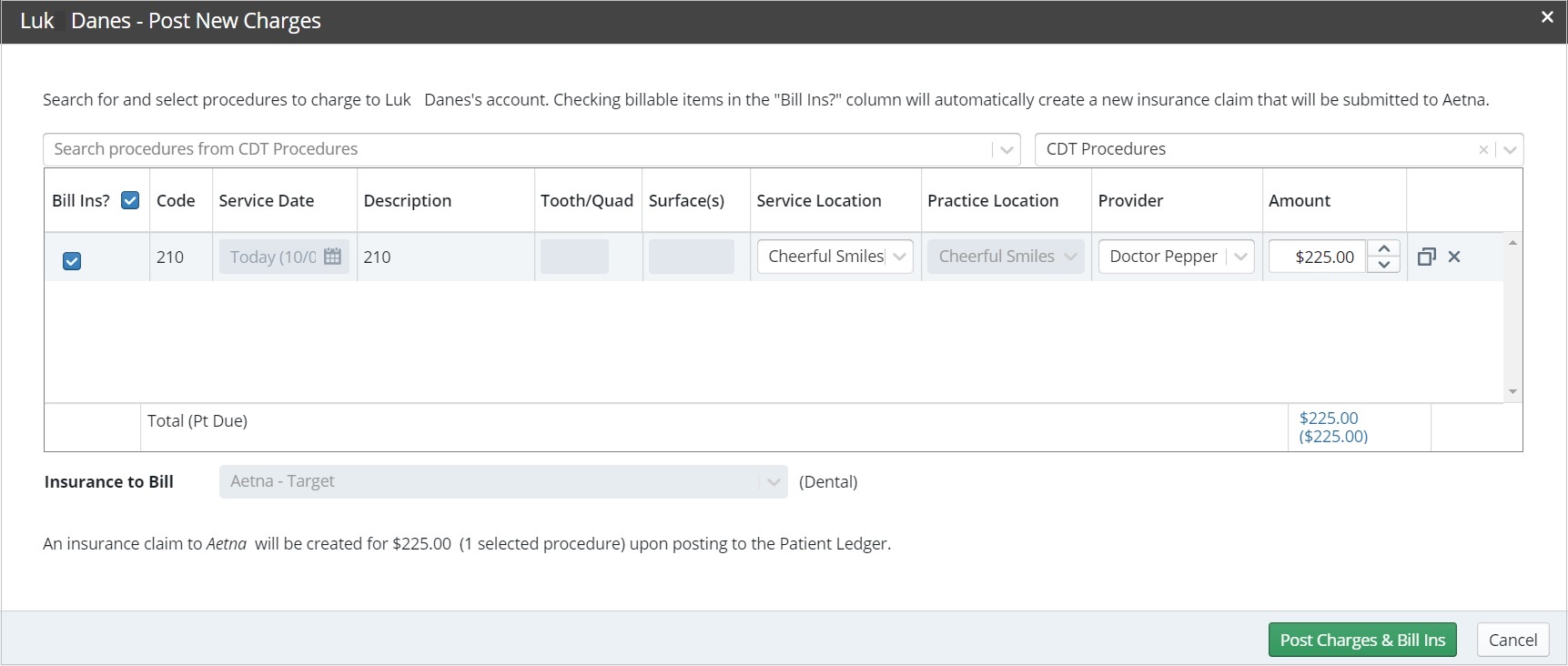 Click Post Charges (or Post Charges & Bill Ins) to post the charges to the patient's ledger. For US practices, an insurance claim is also generated for the selected insurance policy (if the patient has an active insurance policy at the date of service).
Note: If enabled, the auto posting functionality applies whenever you complete a procedure, regardless of if you complete only one procedure or if you complete all of the procedures included in the appointment or treatment plan.
Level 2: Directly Post Associated Charge(s) & Create Claims (No Prompt)
Note: You must first enable the Post on Completion setting, and then the Directly Post Associated Charge(s) & Create Claims (No Prompt) setting becomes available for selection.
When this setting is enabled, Sensei Cloud posts charges (and also creates claims for US practices, if applicable) directly upon completion of procedures, without any prompts. This setting bypasses the Post New Charges window, so changes cannot be made once the procedures are marked as complete.
Note: There are certain cases where you may still be prompted regardless of enabling this setting, such as when pertinent details are not defined or met yet. For example, when you are completing unscheduled work from a patient's treatment plan and the service details are not defined yet, you are prompted to enter this information since these details are necessary for completing and posting the procedure(s).
For US practices, the insurance claim that is generated uses the primary policy as defined in the Patient Record (Patient tab > Patient Record > Insurance Information).
If you need to change the insurance policy for the claim, you have a few options:
Use Level 1 Auto Posting instead which allows you to change the selected insurance before posting.
Generate the claim later from the Unbilled Procedures list (if a claim wasn't generated due to logical rules).
Cancel the generated claim and generate a new claim to the correct policy (See How to Cancel and Resubmit a Claim for more information).
Tip: It is recommended that offices that use Level 2 "no prompt" auto posting adjust their insurance claim handling setting to Hold For Review. When this setting is enabled, all newly generated claims are held to be released before being queued to be transmitted to the clearinghouse. See How to Define Insurance Claim Handling Workflow for more information.