Unbilled Procedures are billable (claimable) procedures that have been completed and posted to patient ledgers, but not yet billed to insurance. Sensei Cloud provides a consolidated To Do list for you to identify and collect this revenue. The Location tab also displays a widget under Claim Stats with a link to this list.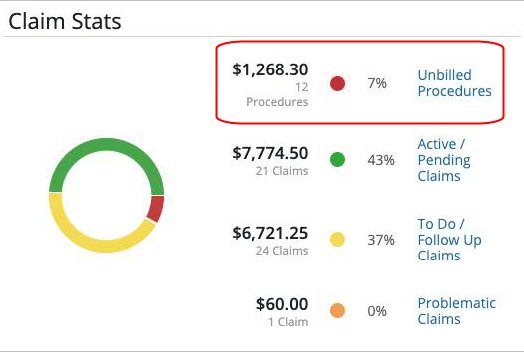 To identify and process unbilled procedures:
From the Location tab, select To Do > Unbilled Procedures.
The software displays a list of patients for whom billable work has been completed, but not billed to their insurance companies.

Note: You can use the filters to refine the list for patients, providers, payers, a service date or
range, or a specific revenue value range.
Click an item in the list to view summary details and insurance information, and to view the patient's ledger, or manage claims for the patient.

Click Create New Claim. The Create Insurance Claim window is displayed with a list of the patient's unbilled procedures.
Select the procedures to include in the claim, and then click Create.