Related Training
Managing Referrals Recorded Class
Referral Sources are usually entered into Sensei Cloud when adding or updating a Patient Record. When entered, they are saved to the Referral Source list, where you can update personal and professional details about these providers using the Referral Entry tabs. You can:
Add referral sources directly to the list.
Edit and update a variety of details about referring providers.
Print recorded data for selected sources.
Filter and sort the list as needed.
To manage referral source information:
From the Administration tab, select Practice Settings > Referral Sources. The Referral Sources list is displayed.

Select a Referral Name from the list, or click Add New Referral Source. The Referral Entry tabs are displayed.

From here you can:
- Use the Provider Info tab to update personal and contact information, correspondence preference, status, and enter any additional notes.
- Use the Clinical Preferences tab to enter the provider's preferred implants, lab locations, and additional notes.
- Use the Interests/Family tab to make notes about interests, hobbies, family information, and so forth, that you want to remember when meeting or communicating with the provider through work or in your community.
- Use the Public Relations tab to record gifts or events used for marketing purposes with the provider.
Click Save Referral.
Note: The Patient Home page displays the patient's Active Referral source. Click the name of the source to display details. Click the name again to access the Referral Entry tabs for that source.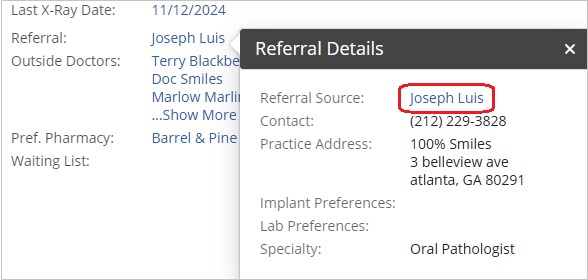 To print a list of referral sources:
Select Administration > Practice Settings > Referral Sources.
Select the desired filters for the list.
Select the sources to include. You can select specific sources or select the checkbox at the top of the column to select all.

Under Actions, click Print Referral Source, and then select your print settings. A .PDF file is generated, with one page per provider, and includes Notes, Referral Count and Last Referral Date.
For more information on tracking referrals, see these topics:
How to Track Referral Activity
How to Add a Referral Source to a Patient Record
How to Send a Referral Follow-Up Letter
How to Create a Referral Correspondence Template