Related Training
Managing Referrals Recorded Class
The Referral Activity feature enables you to track activity associated with your referral sources. This functionality uses the referral sources previously added to a patient's record. You can also add a new referral source and manage existing referral follow-ups.
To track referral activity:
From the Location tab, select Financial > Referral Activity.

The Referral Activity window displays a list of referral sources, along with the number of patients, appointments, posted production, and follow-ups for each. The list defaults to all sources, types, and dates.

Use the Filter options to refine the list by referral source, type, or date range.

Note: Select Group by Practice to sort referral sources with multi-location practices.
Select a referral source in the list to view more details, including referral dates, number of patients and appointments, and posted production amounts. Contact information is displayed to facilitate follow-up communication.



Additional Actions
Use the Actions panel to create a new referral source or manage referral follow-ups.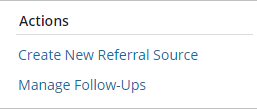 Select Create New Referral Source to enter information for a referral source. This source can then be selected in the Referrals from filter.
Select Manage Follow-Ups to access the Referral Follow-Up List. This is a To Do menu option as well (Location view > To Do > Referral Follow-Up List) that enables you to manage the list of referral-based follow-up appointments.
For more information, see How to Send a Referral Follow-Up Letter and How to Create a Referral Correspondence Template.