Related Training
Screening Patients for COVID-19 Recorded Class
Sensei Cloud provides a way to screen patients for illness, symptoms, and risk factors prior to booking and checking in appointments. Pre-appointment screening has become common as offices re-open for non-emergency visits, to help protect staff and patients from COVID-19 and other transmissible infections. The Patient Screening form is based on the ADA's Return to Work Interim Guidance Toolkit.
Use the Schedule Settings to enable the Patient Screening Form and user prompts.
To manage patient screening:
From the Administration tab, select Scheduler > Schedule Settings.

Select Edit Schedule Settings.

Select This Location Screens Patients. Patient Screening controls are added to appointment interfaces, and can be accessed at any time.
Select Prompt Users About Screening to automatically prompt users to screen the patient whenever booking, re-booking, or checking in an appointment (if a screening form has not already been collected that day). Prompts are also displayed when screening results indicate risk factors.
Click Save.
Note: When prompts are enabled, click Screen Now to access the form.


Using the Patient Screening Form
When Patient Screening is enabled, the Screen Patient and View Patient Screening Data options are added to appointment controls.
A note is created for each use of the form, and stored with the patient's appointment and clinical (Hard Tissue) records. When you select View Patient Screening Data, the most recent screening is displayed. You can use the drop-down list to access any previous forms.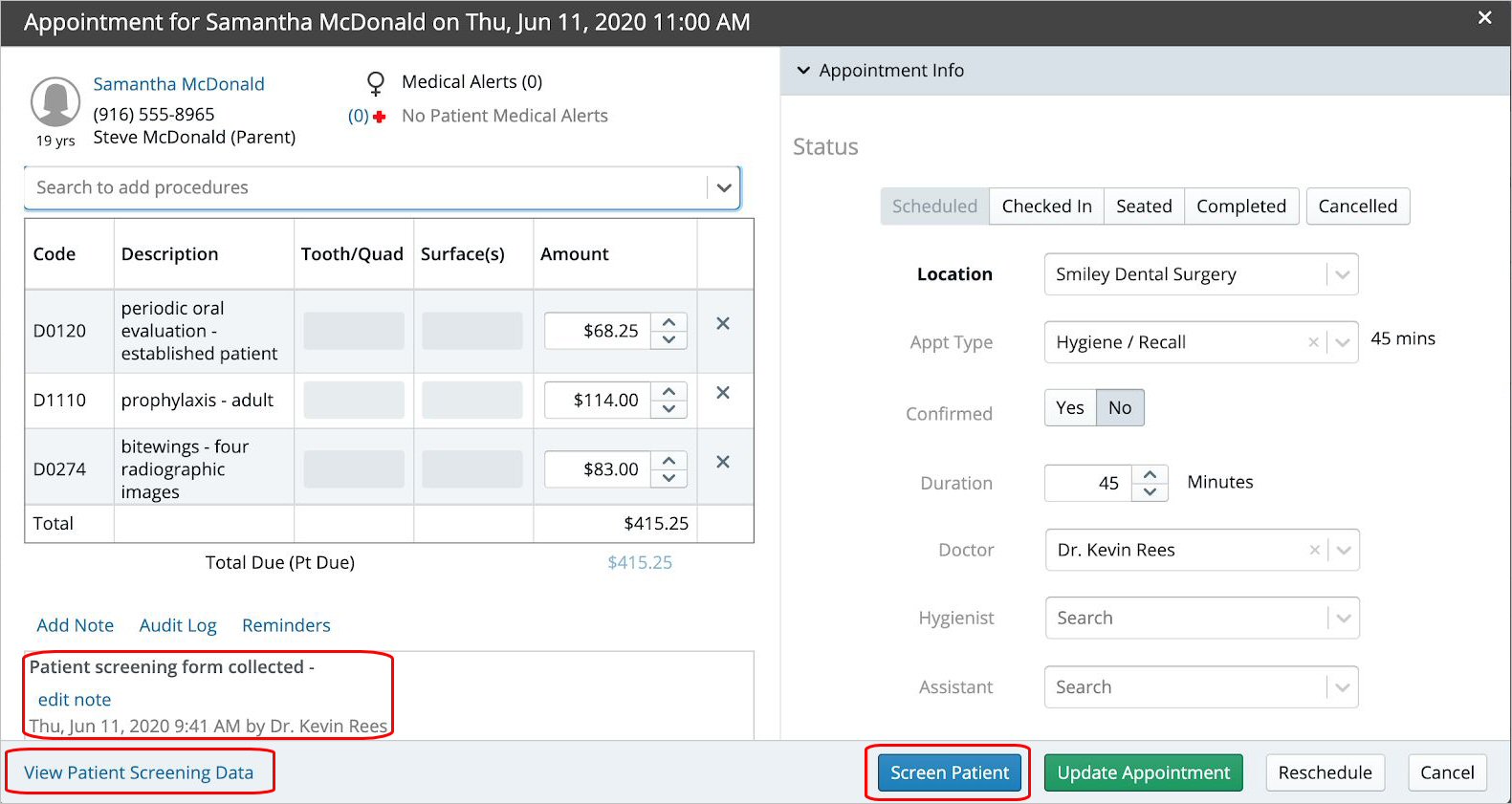 To screen the patient:
Select Screen Patient from the appointment, or Screen Now from the prompt. The Patient Screening Form is displayed.

Collect the patient's data and click Save Changes. Any Yes answers or an elevated temperature reading prompt the user to consider re-booking.

Note: If risks are present, the patient is flagged with a medical alert for a period of three weeks; the Screening Alert prompt is displayed whenever an attempt is made to schedule the patient during that time.


Note: Regardless of whether Patient Screening data was collected prior to the appointment, you are prompted to screen the patient upon appointment check-in.