Related Training
Using Block Booking Templates Recorded Class
Create Block Booking templates and associate appointment types to better organize the Scheduler for your location.
To create a Block Booking template:
From the location's Administration tab, select Templates > Block Booking Templates.
Under Actions, click Create New Template.
Enter a Template Name and Description.

Click and drag a series of time blocks. The block displays the number of minutes allotted.
Click the

+

sign in the middle of the time block. The Apply Appointment Type to Time Block window is displayed.

Select an appointment type and click Apply. The appointment type is added to the Block Booking template.
Repeat Steps 5 - 6 to populate all the time blocks and appointment types you want for this template.
Click Create. The template is displayed in the Block Booking Templates list.
Under Actions, click Apply Templates.

The software takes you directly to the Scheduler's Location Schedule Planning interface.
Applying the Template to the Scheduler
In the Location Schedule Planning window, select the days for this template, and click Apply template.

Note: You can use the Ctrl or Shift key to select multiple days, and use the arrows at the top of the Schedule to navigate to different weeks or months. You can also click a day of the week (clicking Mo selects all of the Mondays), or click the arrows on the side to select the entire week.

The Apply template to selected days window is displayed.

Select the template from the list and click Apply.
Viewing the Template Overlay
In the Location Schedule/Day View, click the Gear icon next to Manage Schedule View, and then select the Show Block Booking Guidance option.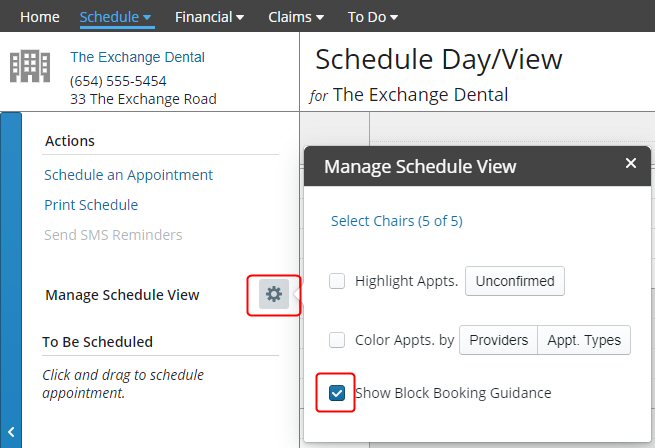 The overlay is visible on days for which it is applied.