You can insert clinical notes into a current or previous date (day-based), or provide additional details to clinical events, using the Insert Note function on a patient's Hard Tissue Chart, Treatment Chart, Soft Tissue Chart, Perio Chart, Orthodontic Clinical Summary, and Treatment Plan screens.
Note: A day-based clinical note does not have to coincide with an appointment. For example, you might insert one when a lab result is returned or a patient calls to report a clinical issue.
To insert a clinical note:
From the Patient tab, click Clinical and select a clinical view.
Locate the day for which the new note is required and click Insert Note.
The Note For [Patient] window is displayed.
Start typing to enter new free-form clinical note text, or select a clinical notes template to add pre-defined text into the note.
Note: Only active templates are available for selection.

If you select a template, click Insert Text, and then edit the note as needed.
Click Save.
Clinical Events
Additionally, you can hover over an existing clinical event (such as an observed condition or planned / completed procedure) and click Insert Note.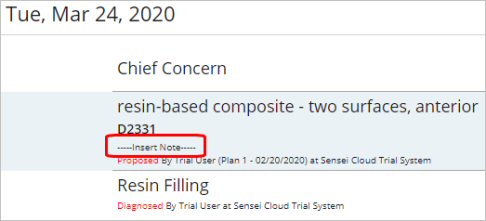 You can also scroll within the clinical note's container or click Show More to view a popover with a larger view of the full clinical note text.