To add a note to an appointment:
When you create the appointment, click Add Note.

Type the note in the field and press Enter.
Enter the rest of the details for the appointment, and then click Schedule Appointment.
Viewing an Appointment Note
If a note has been added to an appointment, it will be indicated by a Dialogue icon

in the lower-right corner of the appointment tile in the Schedule Day View.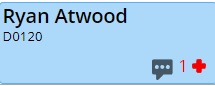 To view the note, hold the cursor over the Dialogue icon.
Editing an Appointment Note
To edit an appointment note:
Click the appointment tile in the schedule.
Click the Pencil icon. The Appointment window is displayed.
Click on the note text, and the field becomes editable. Update the text as needed.
Click Update Appointment.