Sensei Cloud enables you to chart the presence and conditions of Supernumerary, or "extra" teeth outside of the normally-occurring series of primary and permanent teeth (hyperdontia).
When charting against a primary tooth, a primary supernumerary tooth is added to the chart. When charting against a permanent tooth, a secondary supernumerary tooth is added. You can add up to a single supernumerary tooth against each primary and permanent tooth.
To chart the presence of supernumerary teeth:
Select Patient > Clinical > Hard Tissue Chart > Current mode.

Click on the applicable tooth number and then select Supernumerary Tooth Present. The hard tissue chart is updated to display the added tooth, and a Supernumerary / Mixed Dentition Present indicator is placed in the tooth grid above the tooth.


Click the icon to access the tooth-selection popover, which displays the list of teeth currently available for charting at the arch location.

Click on a tooth option to update the hard tissue chart, swapping the currently displayed tooth for the selected one, making it available for review and charting.
Note: Only the currently-selected tooth is displayed and available for charting; however, each tooth's charting history is available via the patient's clinical history (clinical event notes).
Clinical Event Notes Entry
When you chart supernumerary teeth, a Supernumerary Tooth Present event is automatically added to the patient's clinical history (clinical event notes). These notes are visible regardless of which tooth is selected or displayed.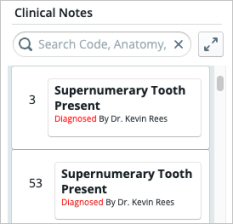 For more information, see Default Dentition by Age for the Hard Tissue Chart, and How to Chart Mixed Dentition.