If your practice subscribes to the NEA FastAttach® service, you can add electronic attachments to your claims prior to submission to the clearinghouse. Secondary and subsequent claims inherit attachments from the primary or previous claim(s).
Secondary or subsequent claims are automatically flagged as requiring Explanation of Benefits (EOBs) from the previous claim upon creation. The Bill Next Insurance window includes a reminder that EOB attachments are required.
Once the claim is generated, the Claim Summary of the secondary (or subsequent) claim indicates the EOB attachment is required.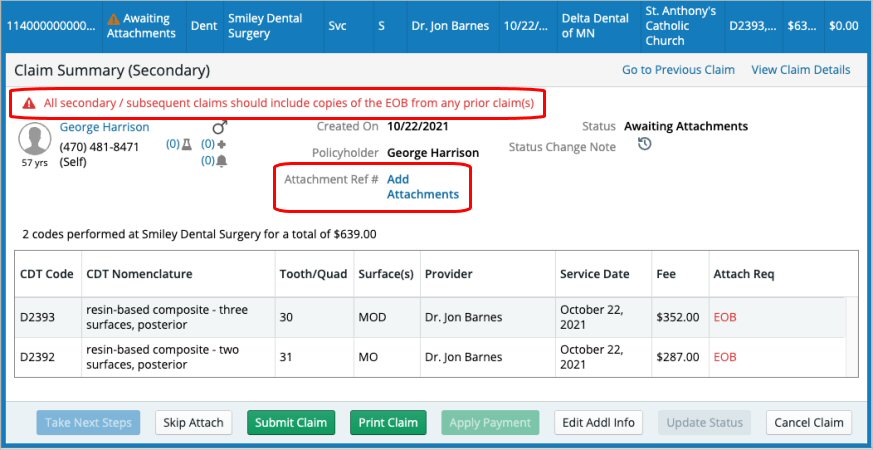 For more information, see How to Manage Secondary and Subsequent Insurance Claims and How to Add Attachments to an NEA FastAttach Claim.
To attach an EOB to a secondary or subsequent claim:
From the Patient tab, select Insurance > Claims Management.
Select the claim to display the summary details.
Select Add Attachments. The Add New Claim Attachment(s) window is displayed.
For Attachment Type, select EOB.
-- If you have already scanned the EOB document into Patient Files, you can select it here.
-- If you have not scanned the EOB, click the Scan Document link to scan and save the document. It is automatically selected for the claim.
From the Add New Claim Attachment(s) window, click Save.
From the Claim Summary, click Submit Claim.
Updating the New Claim Handling Rule
For effective handling of secondary (or subsequent) claims, it is recommended that you update the New Claim Handling rule to Hold For Review. This ensures that all claims are held in a Pending Review state, and prevents queueing and automatic transmission when the payer does not accept electronic attachments.
Note: For payers who do not accept electronic attachments, print a copy of the claim and manually submit it to the payer with a copy of any necessary EOBs and supporting documentation.
To update this rule:
From the Administration tab, select Practice Settings > Claim Rules. The Claim Rules window is displayed.
Under Actions, select Edit Insurance Settings.
For New Claim Handling, select Hold for Review.
Click Save.