Note: This feature supports the submission of medical insurance claims for customers using the Medical Billing module. For more information, see Sensei Cloud Medical Billing.
Sensei Cloud supports the billing of medical insurance plans for primary (electronic or paper), and subsequent (paper) claims.
There are two places to enter a new plan into your system:
When adding patient insurance from the Patient Record, you are prompted to create a plan that is not already available for selection. Click Create "PlanName."
From the Administration tab, select Insurance > Plans, and then click Add New Plan.
The Create New Insurance Plan window is displayed.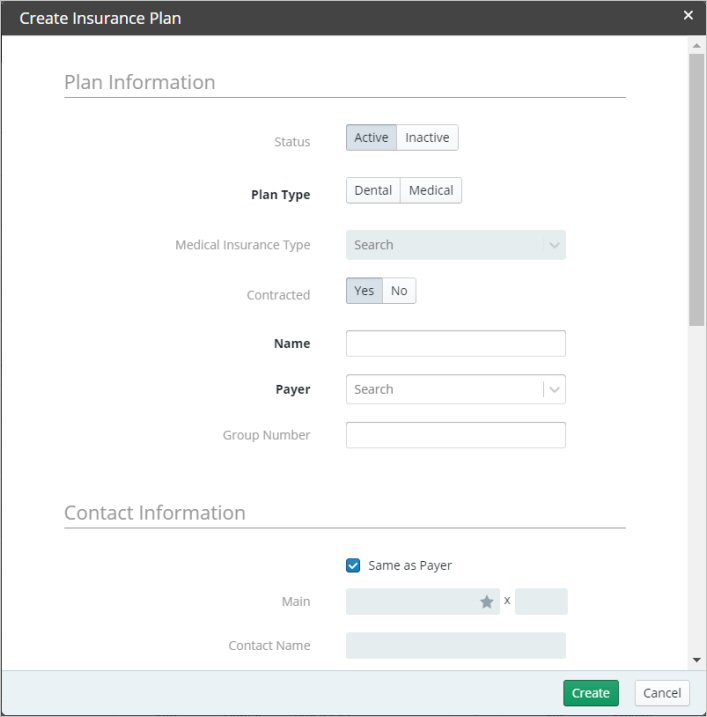 Select the Plan Type: Medical.
Select the Medical Insurance Type.

Note: This selected type populates the required field in the CMS 1500 claim form.
Complete the Plan Information section: Contracted, Name, Payer, and Group Number.
For Contact Information, enter the details if different from the Payer.
Enter the Fee Coverage Information details for the plan.
Note: The Monetary Limits section is currently not enabled.
Click Create. The plan is added to the list of insurance plans for the practice, and can be managed from the Insurance Plans screen (Administration > Insurance > Plans). The plan can then be selected for any new or existing patient.
For more information, see How to Use CPT® Codes for Medical Billing.