You can edit a pending or active Ortho contract's charge schedules to adjust for changes in insurance coverage.
Whenever insurance coverage associated with a pending or active contract becomes invalid, you are prompted to update any affected contracts. This can happen if you mark an insurance policy as Inactive or remove it from the patient's Insurance Information when editing the Patient Record. (Patient tab > Patient Record.)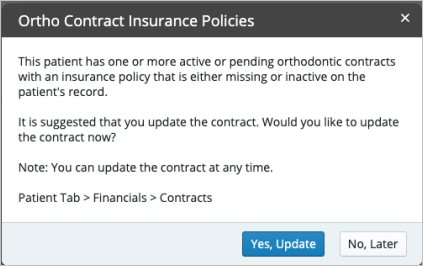 Clicking Yes, Update automatically redirects you to the patient's contracts list where you can edit the applicable contracts and remove the associated insurance charge schedules.
Note: Whenever charge schedules are removed or adjusted, any allocated (pending contracts) or uncharged / scheduled remaining balance (active contract) is automatically shifted to the guarantor. This increases the guarantor's balance and will maintain the defined charge amount, but extend the schedule. Adding a new insurance schedule decreases the guarantor's balance and reduces the schedule while maintaining the defined charge amount.
To adjust insurance coverage on a pending or active contract:
From the Patient tab, select Financials > Contracts.
Select the contract to adjust and click Edit Contract.
Scroll down to the Contract Charge Schedules section. From here you can:
- Click Remove Charge Schedule to remove an existing schedule. The guarantor's portion of the contract is recalculated automatically.
- Click Add Charge Schedule to create a new schedule. Select the patient's primary or secondary insurance from the Plan field. Note: An insurance policy must be entered into the Patient Record before it can be selected here.
- Edit an existing charge schedule for the Amount being paid by the insurance company, the Frequency and Charge Amount for subsequent charges, and the Next Charge Date. The # Chgs Remaining and Remaining Balance fields are recalculated automatically, as well as the guarantor's portion of the contract.
Click Save Contract.