The Daysheet gives an overview of the day's finances, including all Daily Totals, Deposit Slip, Totals Summary, and Transaction Details. When you close the day, a report is generated and automatically archived. You can view or print the archived reports at any time.
For more information, see How to Use the Financial Daysheet, and How to Close the Day (Financial Daysheet).
To view an archived Daysheet:
From the Location tab, select Archives > Archived Daysheets. The Archived Financial Daysheet Reports list is displayed.
Note: You can filter the list by Closing Team Member or Closing Period, or click the column heads to sort the list.
Click an item in the list. A .PDF version of the report is opened automatically, detailing the information that was selected when the day was closed (Daily Totals, Deposit Slip, Totals Summary, and Transaction Detail).
To print the report, click the Print icon in the open PDF file.
Daily Totals
This sections lists the previous and current A/R and totals of all posted line items, by category:
Charge Adjustments: Charge in Errors, Wrong Charge Amounts
Charges: Contract, Contract Charge, Contract Downpayment, Procedure
Discounts: Courtesy Discount, Family Discount, Marketing, Miscellaneous Discount, Paid In Full Discount, Professional Discount, Staff Discount
Payments Adjustments: Payment in Error, Wrong Payment Amount
Payments: Bank Transfer, Care Credit, Cash, Check, Credit Card, Debit Card, Insurance Checks
Write-Offs: Collectible, Contracted Insurance, Discontinue Treatment, Patient Transfer, Uncollectible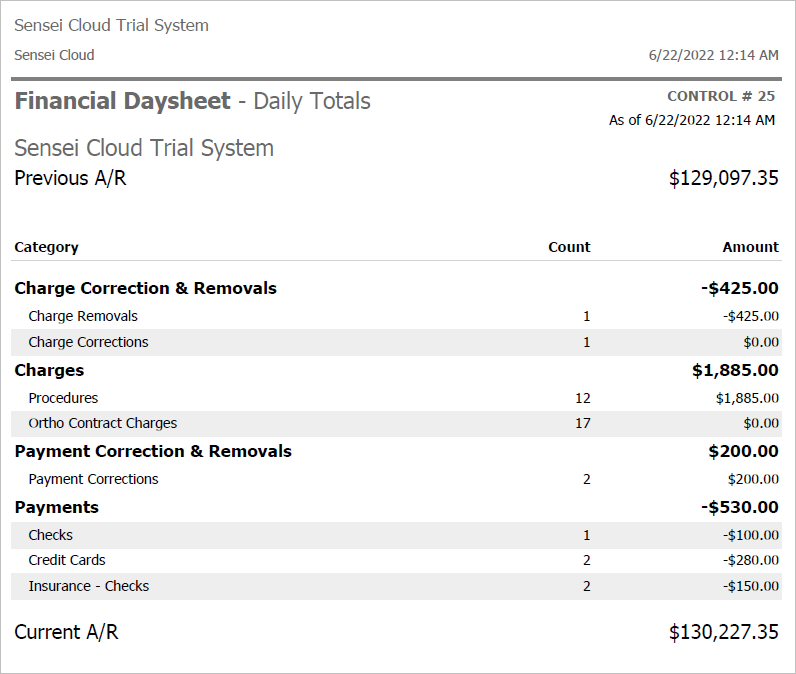 Note: Categories that have not been posted that day are not displayed.
Deposit Slips
This section lists the daily cash total and an itemized list of checks to be taken to the bank.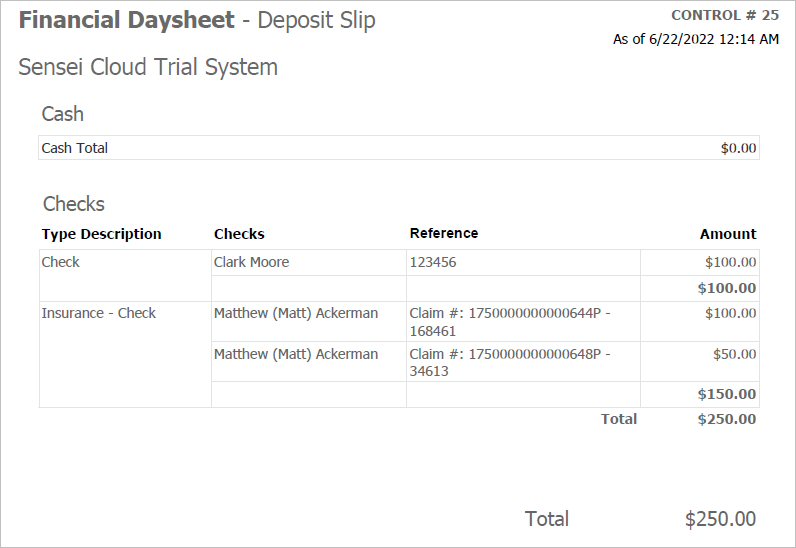 Totals Summary
This section displays and calculates the Daysheet Totals including Previous A/R plus the Charges, minus the Payments, minus the Adjustments, equals the Current A/R. You can also see Month-to-Date Totals and Year-to-Date Totals for Charges, Payments, and Adjustments, from the first to the current day of the month/year.

Note: Adjustments do not include removals or corrections that occur in the same month.
Transaction Details
This section provides an itemized list of the Daily Totals found in section one of the Daysheet. For each line item, the following details are listed:
Transaction Date: Date posted, not the service date of the line item
Patient: Patient first name (Nickname, if entered) and last name
RP/Guarantor: Responsible Party attached to the patient
Description: Ledger description of the line item
Doctor: Production or collection doctor, if applicable
Posted By: Team member that posted the line item
Amount: Amount of the line item, if applicable