The Shortcall List enables you to rebook scheduled appointments for an earlier date and time. Use this list to fill a cancellation or open slot in your schedule (Location > Appt Worklists > Shortcall List).
Add an Appointment to the Shortcall List
To add an appointment to the Shortcall list:
From the Appointment card, expand the Appointment Info section.

For Put on Shortcall, select AM Only, PM Only, or Anytime.
Note: To remove an appointment from the list, select No.
Click Update Appointment.
Use the Shortcall List
To use the Shortcall List:
From the Location tab, select Appt Worklists > Shortcall List. The Shortcall List is displayed.
Use the filters to narrow the list as needed for time of day, provider, or duration.
Select an appointment in the list. The details are displayed.
Click Reschedule. The Appointment Card is displayed, where you can review or update the details and reschedule it.
Access Shortcall Appointments From the Schedule
To access Shortcall appointments from the Schedule:
You can configure the Schedule to prompt you to book from Shortcall whenever you cancel an appointment.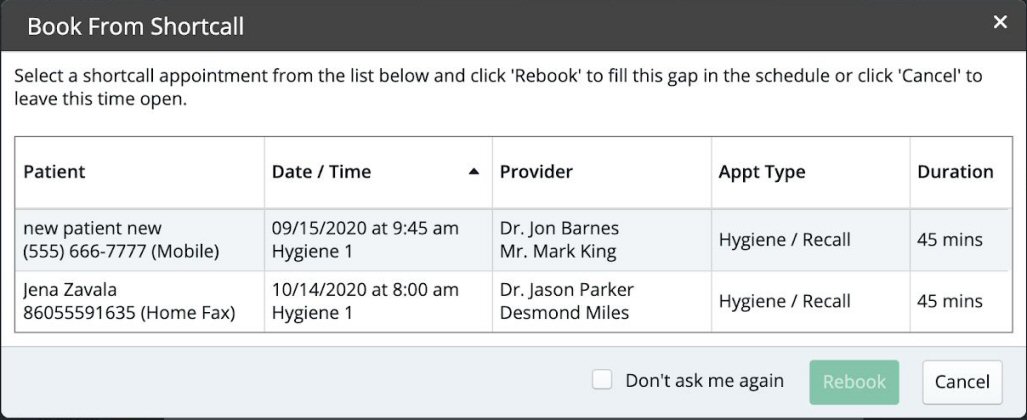 To configure the Schedule:
Select Schedule > Day/Week View.
Select the Manage Schedule View control.
Select Prompt for Shortcall.

Remove Appointments From the Shortcall List
To remove appointments from the Shortcall list:
The Shortcall list automatically purges appointments that occur as scheduled. You can manually remove them by selecting Remove from Shortcall or Cancel Appt. from the details in the Shortcall list, or by changing the Put on Shortcall status to No on the Appointment Card.