Use the Manage Group Procedures feature to define group procedures for your practice. When group procedures are used, Sensei Cloud automatically adds the individual procedures contained therein to the treatment plan, appointment, ledger, and so forth.
You can add a single procedure to a group procedure multiple times, such as D7140 for a four-thirds extraction, as applicable for the treatment.
Note: When a group procedure is added to an appointment or treatment plan, you are prompted to enter the tooth, quadrant, or surface for each instance of each procedure requiring the designation.
From the Administration tab, select Procedures & Fees > Manage Group Procedures.


Important: If multiple procedure lists exist for your practice, use the "for" field in the banner to select a list. For more information, see How to Use Multiple Procedure Lists / Fee Schedules.
The Manage Group Procedures window is displayed listing the Group Procedures for the Practice, with the Office Code and Description for each, as well as the Status, Recare status, Included Procedures, Total Number of Minutes, and the Fee.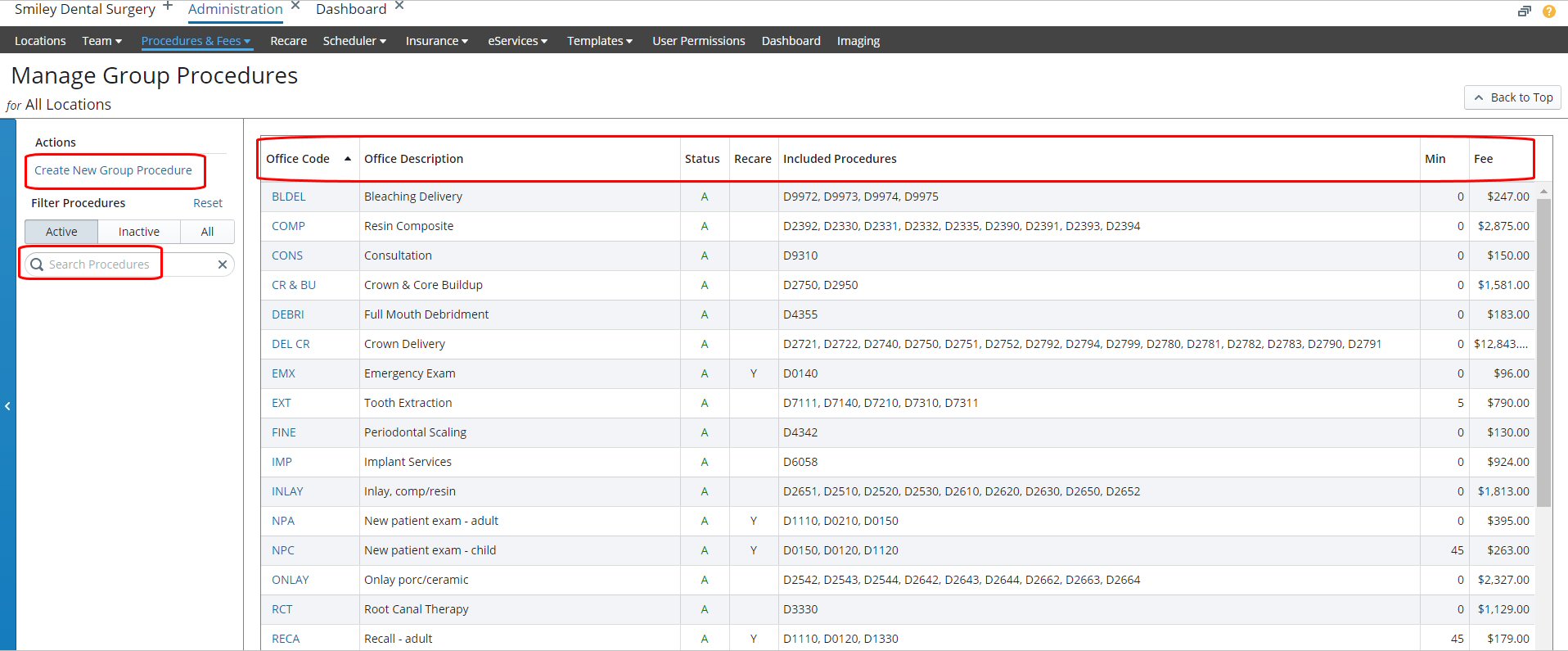 - Click the column heads to sort by column.
- Use the Search field to find a group procedure.
Create a New Group Procedure
To create a new group procedure:
Under Actions, select Create New Group Procedure.



Enter a unique Office Code and Description for the group procedure. The Status defaults to Active.
Note: The Resets Recall status is determined by the included procedures.
In the Included Procedure field, start typing and use the list displayed to select the procedures for inclusion in the group. The list below is populated with the selected procedures, the number of minutes, if defined, and the assigned fee for each. The totals are displayed at the bottom.


Note: When searching for individual procedures to add to the group procedure, the search only works within the select list's procedures.

When you have finished adding procedures, click Create.
Update a Group Procedure
To update a group procedure:
Find the procedure in the list and click the Office Code. The Update Group Procedure window is displayed.
Use the Included Procedures field to select and add additional procedures.
To remove a procedure from the group, click the x to the right of the procedure.
When you have finished, click Update.
Note: Changes to fees or minutes must be made from the Procedure List and Fee Schedule.
For more information on Procedure Codes, see How to Create or Edit a Procedure Code.
bundle, bundled