Related Training
Orthodontic Clinical Summary Recorded Class
Use the Orthodontic Clinical Summary to initiate a patient's orthodontic treatment, and to record and track the treatment's progress.
Click Begin New Treatment to get started. Enter the start date, estimated months of treatment, and the modality: [traditional] mechanics or aligners. Once the treatment is defined, a progress tracker is displayed in the banner to monitor the patient's progress against the proposed treatment timeline. A summary of the current state is also displayed in the upper-right portion of the screen, reflecting the selected modality.
From the Patient tab, select Clinical > Orthodontic Clinical Summary.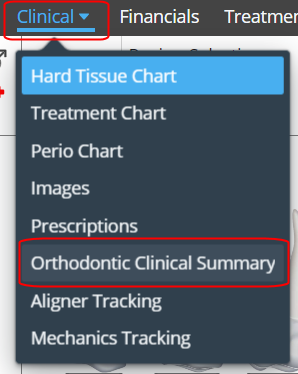 The Summary window is displayed.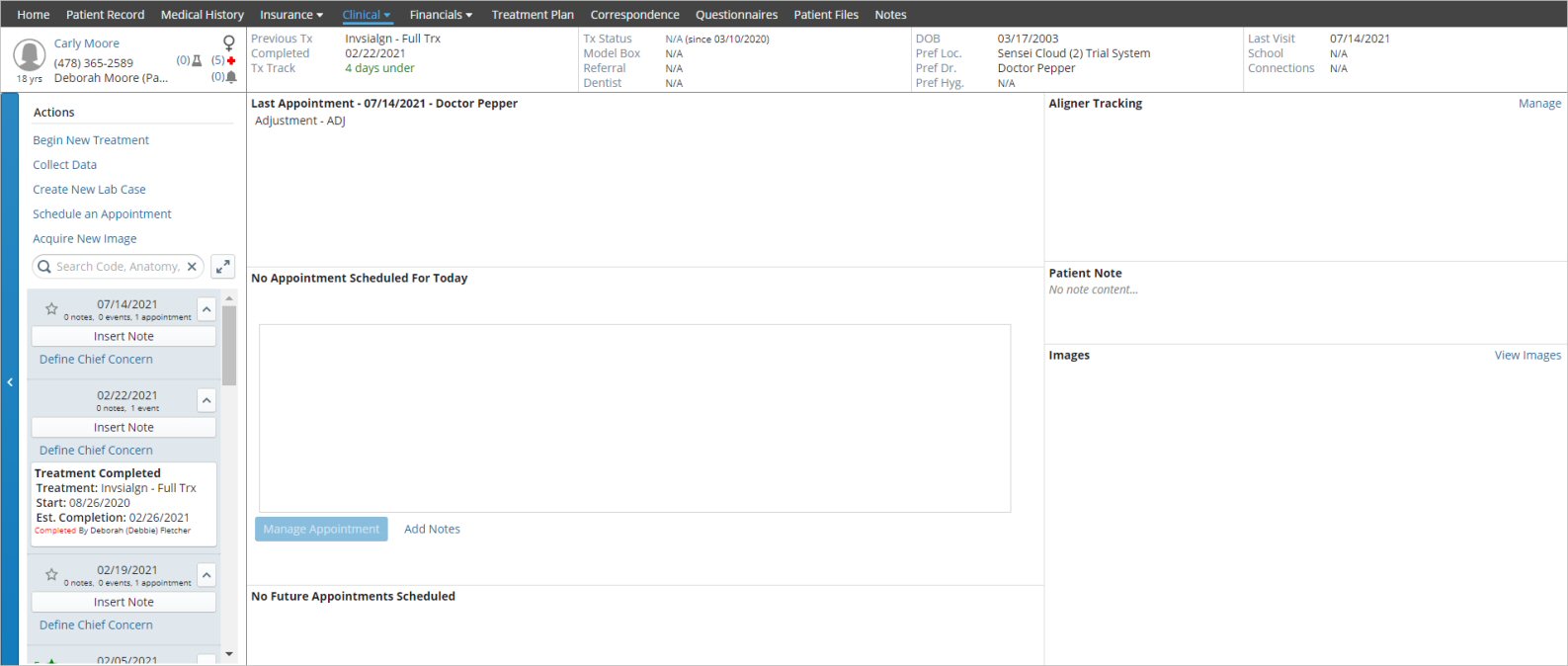 The banner provides general details such as the patient's treatment status, referral source, and general dentist. The start date is provided along with the estimated completion date. The Tx Track metric displays the amount of time left in the current treatment, as well as the percentage of treatment completed.
Note: Sensei Cloud displays time left in months by default, automatically adjusting to weeks and then days as the estimated completion date draws close.
The side panel provides a detailed history of clinical events and notes that occurred during an appointment, mimicking the Hard Tissue Chart. The main window provides details on the latest clinical events, such as appointment details and clinical notes, today's scheduled appointment, and the next scheduled appointment.
From this window, you can:
Begin new treatment
Schedule an appointment
View or acquire images
View or end treatment in progress
See notes from the last clinical event
Manage today's appointment
- Procedures
- Insert a note
- Enter oral hygiene (OH) rating: 1-5 stars

Review all treatment notes
Update the Tx Status
Manage and track mechanics or aligners
For more information, see How to Set Up New Orthodontic Treatment with Mechanics, How to Set Up Orthodontic Aligner Treatment, and How to Create an Ortho Contract.