Related Training
Creating Prescription Templates Recorded Class
Patient prescriptions are created and managed in the Prescriptions screen in a patient's Clinical window. To issue a prescription:
1. From the Patient tab, select Clinical > Prescriptions.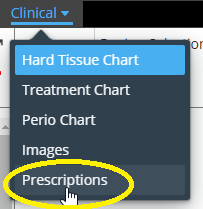 2. Under Actions, click Create New Prescription.


3. In the Prescribing Provider field, select the provider.
4. In the Prescription Start Date field, change the date if the default is incorrect.
5. In the Drug Name field, do one of the following:
a. Select a drug from the list.
b. If the drug is not in the list, create it by entering the name and selecting Create.
c. Use the Rx Template (Prescription Templates are managed under Administration > Templates > Prescriptions.
6. Select or create the Strength/Dosage, SIG, and Formulation.
7. Complete the remaining fields.
Note: If creating a new prescription type for future use, select the Save as Rx Template option.
8. Click Save and Print. A prescription is created in .pdf format so that you can print it.