You can configure your Schedule Day/View display to provide information about the day's appointments without clicking into the individual appointments. One way to accomplish this is by using Appointment Types and color coding them. Create appointment types, associate procedures, and assign colors to create the display that works for your practice.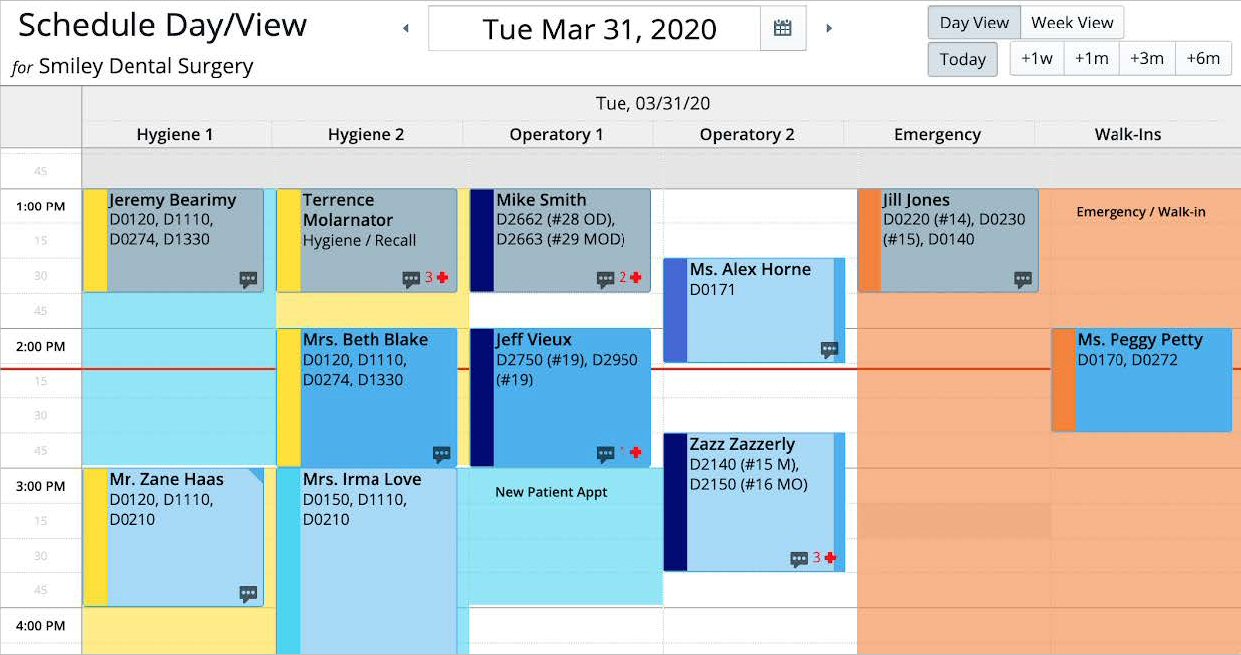 Assigned procedures are displayed on the appointment tile. If no procedures are assigned, the appointment type is displayed instead.
When the anatomy has been specified for a scheduled procedure, the region or tooth number is displayed next to the procedure code.
Assigned Appointment Type colors are displayed whenever an Appointment Type is selected for an appointment.
Appointment Types can be flagged for follow-up, to be automatically added to the Patient Follow-Up List (night call list).
Configure the Schedule to Use Appointment Type Tile Colors
To color code appointment tiles by appointment type:
From the Location tab, select Schedule > Day/Week View.
Under Actions, select the Gear icon beside Manage Schedule View.

Select Color Appts. by, and then select Appt. Types.
Set Up Appointment Types
To set up appointment types:
From the Administration tab, select Practice Settings > Appointment Types. The defined Appointment Types are displayed.


Under Actions, select Create New Appointment Type. The Create Appointment Type window is displayed.

In the Summary section, enter a Name and Description for the appointment type.
The Status defaults to Active.
Click the Assigned color block to choose a color for this appointment type. The assigned color is used globally for this appointment type across all users and locations.

Set the Recare value to Yes or No.
Set the Requires Follow-Up value to Yes or No. (If Yes, the patient is automatically added to the Patient Follow-Up List after the completion of the appointment.)
Enter a Duration for the appointment type.
Note: The actual duration of an appointment is determined by the user when scheduling it.
Under Associated Procedures, use the Search field to select procedures to associate with this appointment type.
Click Create. The Appointment Type is added to the list.

Edit/Update Appointment Types
To edit appointment types:
1. Click an Appointment Type in the list. The Update Appointment Type window is displayed.
2. Make necessary edits. To remove a procedure, click the X at the far right.
3. Click Update.
Apply Appointment Types to Appointments
When scheduling an appointment, select an Appt Type. That appointment is displayed on the Schedule in the assigned color for that type.