Related Training
User Voice Recorded Class
You can use the UserVoice web portal to submit ideas for improving Sensei Cloud, and vote on ideas that other users have submitted.
To access the UserVoice web portal:
From the User menu, select Submit Feedback (UserVoice).

The Carestream Dental Institute login page is displayed.
Enter your user name and password, and then click Sign In. The Sensei Cloud User Feedback Site is displayed (gosensei.uservoice.com).

Click the Lightbulb icon to submit new ideas, or the Check icon to review and vote on existing ideas.
Review and Vote on Existing Ideas
To see what other users have suggested, select Vote on an Existing Idea. A list of categories is displayed. All Ideas is selected by default. Beneath each category title is the number of ideas in that category.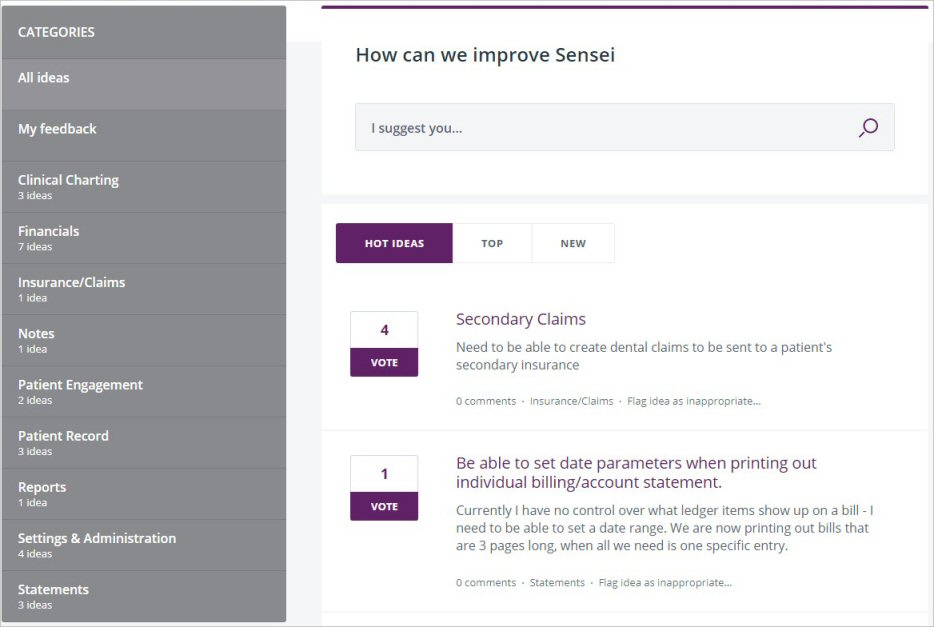 From here, you can:
Click My Feedback to view a list of ideas you have previously submitted, and any votes or comments added.
Change the display order from Hot Ideas – the most voted-on ideas from the last 30 days; to Top –the most voted on ideas of all time; or New – ideas added within the last 30 days.
Click on a category to display the associated ideas.
Type a term into the Search (I suggest you...) field to see a list of ideas containing that word.
Click Vote next to an idea you support.
Note: You can only vote once for any idea. When you click Vote, the button turns gray to indicate you voted. You can withdraw a vote by clicking the button again.
Click on an idea to display existing comments and access the Add a comment field.
Enter a comment to further define, support, or disagree with a previously posted idea. When you have finished, click POST COMMENT.
Submit a New Idea
To share a new idea for improving Sensei Cloud:
Select Submit Your Idea.
In the I suggest you... field, enter a keyword for your idea to trigger the search function. Ideas containing that term are displayed.
Note: This step is designed to prevent the submission of duplicate ideas.
If your idea has not been previously submitted, click POST NEW IDEA. The Describe your idea... field is displayed.
Select a category and enter your idea. You can also attach any files you might have to support your idea.
Click POST IDEA.