Sensei Cloud supports NHS Triage Claims Integration (Band 6) for practices in England. The NHS Claim window includes mandatory Triage fields that enable clinicians to select dental claim values for non face-to-face appointments.
Triage data can be added for any NHS claim from the Update NHS Claim window. For more information, see How to Update an NHS Claim.
You can create Triage claims from the patient's NHS Claim Management screen (Patient > NHS Claims), the Dental Chart (Patient > Clinical > Dental Chart), or the patient's Treatment Plan (Patient > Treatment Plan).
To create a Triage claim:
From the Patient Claims, Dental Chart, or Treatment Plan window, click Create Triage Claim. The Create New Band 6 Triage Claim window is displayed, with Performer defaulting to the patient's preferred dentist and Contract defaulting to the performer's preferred contract.


Select the options relevant to the conversation that occurred with the patient.
Note: The Date of Contact and Time Call Ended fields default to the current date and time, but can be changed as needed.

Click Mark as Ready to Send to queue the claim for transmission.
Note: You can select Delete and Do Not Send if the claim was created in error, or View History to view the history of an existing triage claim.
Triage claims appear in the claims list with a telephone icon: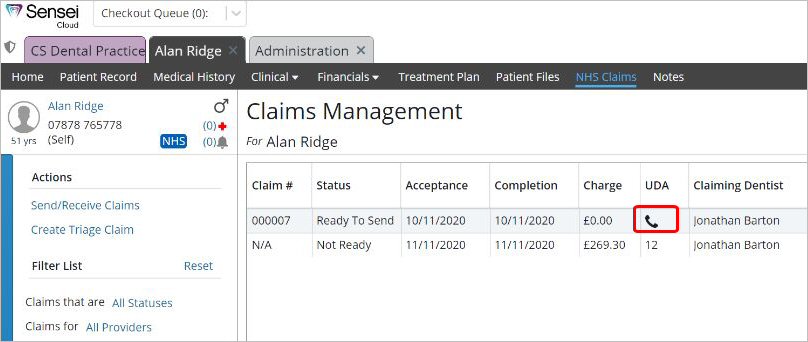 Updating NHS Claims With Triage Data
Triage data must be sent with all NHS dental claims. The Status of a claim remains Not Ready until the Triage data has been entered.
To update a claim:
From the Patient tab, select NHS Claims. The patient's claims are displayed.
Select the claim from the list. The Update NHS Claim window is displayed.

Click COVID Assessment Triage Calls and select the appropriate values based on the conversation with the patient.
Click Update.