The Sensei Cloud ePrescriptions service enables you to send and manage prescriptions electronically. After you enroll in this service and set up the integration, the Prescriptions feature (Patient > Clinical > Prescriptions) interacts directly with ePrescriptions to facilitate direct communication with the patient's pharmacy using stored preferences.
Note: If you are not currently an ePrescriptions service subscriber, contact your Carestream Dental representative for more information.
Once the ePrescriptions service is configured for your practice, all patient prescriptions in Sensei Cloud are handled electronically. Any existing paper-based prescriptions are automatically archived for continued review, but can no longer be printed, voided, or reordered.

Once issued, all new electronic prescriptions are synchronized with the patient's records in Sensei Cloud.
Use the filter list to search for a prescription.
Click the Rx ID number to access the record in the Clinician software, view details, cancel, void, or discontinue a prescription.
Click Create New ePrescription to access the Rx Pad and create a new patient medication order.
Click Manage ePrescriptions to access and manage prescriptions for the selected patient.
Click Refresh All ePrescriptions to sync the records from Clinician to Sensei Cloud.
Note: Synchronization occurs automatically, but this option enables you to immediately synchronize newly updated information.
New Prescriptions
Click Create New ePrescription (Patient > Clinical > Prescriptions) to open the Clinician Rx Pad where you can create a prescription for the patient, and then either issue it or place it on hold for authorization.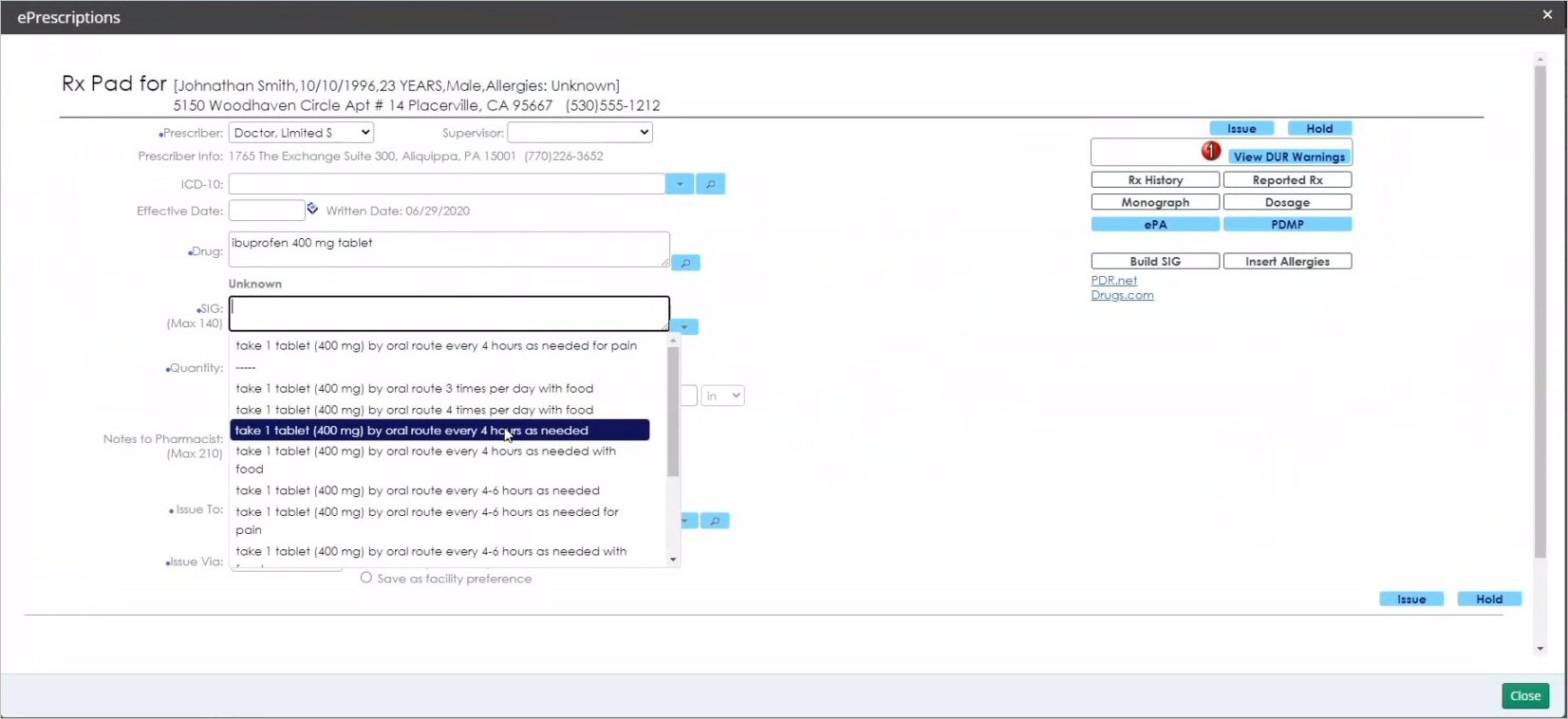 After the details are entered, select Issue to send the prescription to the designated pharmacy, or select Hold if a doctor's authorization is required.
Manage Prescriptions
Click
Manage ePrescriptions
(
Patient > Clinical > Prescriptions
) to open the Clinician interface and view/manage prescriptions for a patient.

For more information, see the Sensei Cloud: Getting Started with ePrescriptions Recorded Class.