Related Training
Using the Clinical Chart EMR Recorded Class
Note: This version of the Clinical Chart (EMR) is available for practices that have Oral Surgery features enabled.
For more information, see the Sensei Cloud Oral Surgery Feature Overview.
The Clinical Chart (EMR) interface for Oral Surgery displays a chronological, text-based view of clinical events that have occurred via the Hard Tissue, Soft Tissue, and Perio Charts, as well as the other corresponding clinical screens.
From the Patient tab, select Clinical > Clinical Chart (EMR). Use this screen to manage current appointments, document walk-in appointments, define chief concerns, create a lab case, collect data with a selected questionnaire, and insert notes into events in the list. You can also add information to previous appointments, as well as scheduled appointments that have not yet occurred.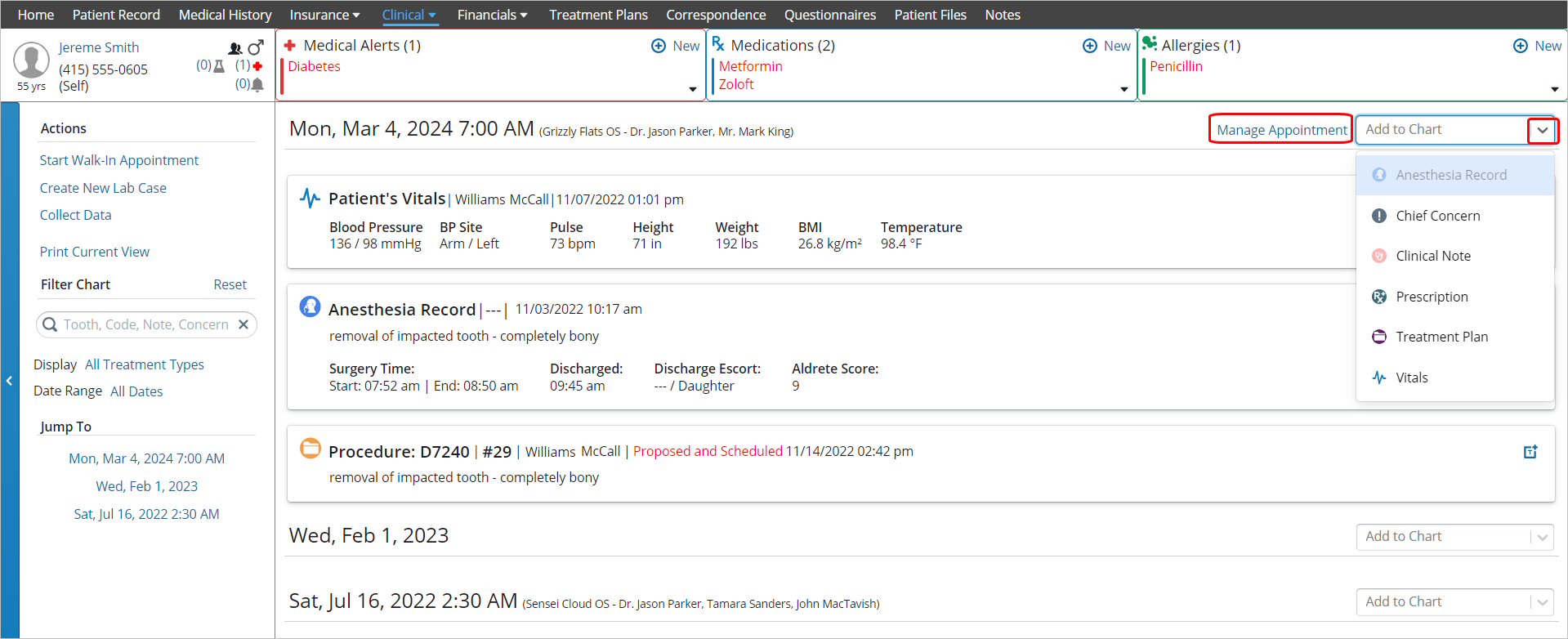 See the following sections and articles for more information:
Tracking Widgets
Use the panels on the top to access and update:
- Medical Alerts
- Medications
- Allergies
Define Chief Concern
Select Add to Chart > Chief Concern. Select the patient's primary concern and add relevant details.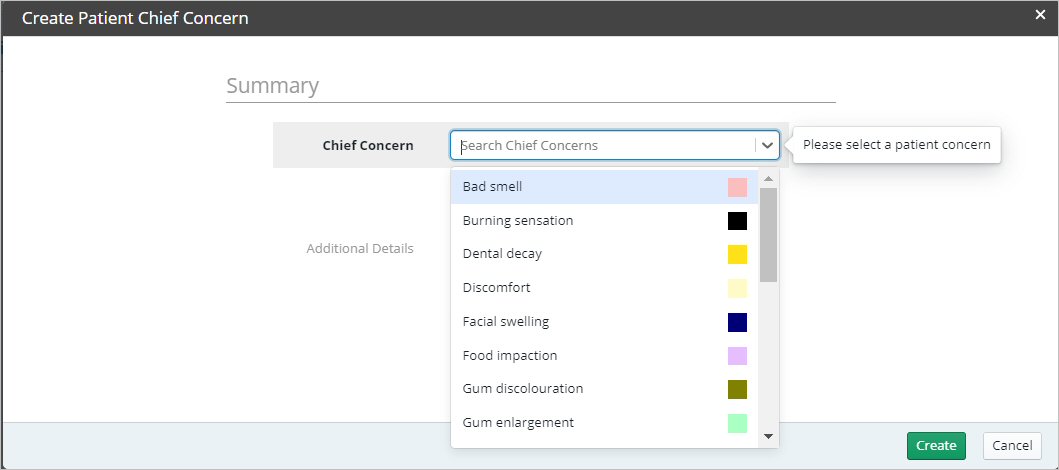 Manage Appointment
For current appointments, click Manage Appointment to update procedures and notes for the appointment.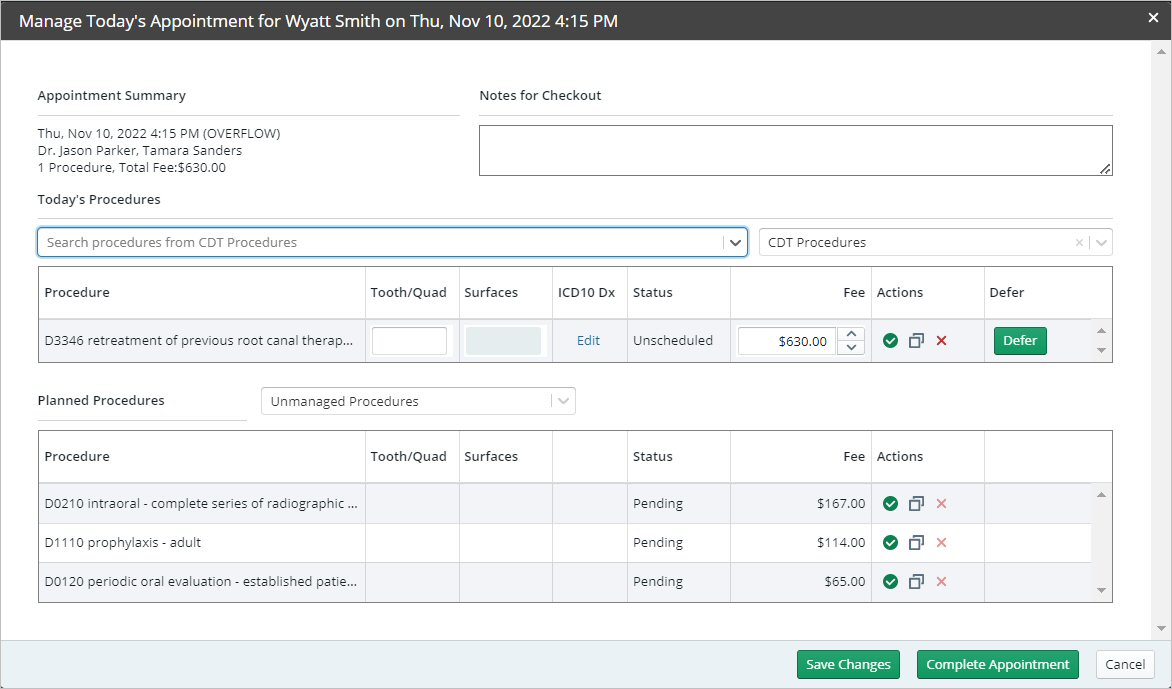 Note: You can use the copy icon

to add another instance of a procedure to the list.
Note: When you enter a procedure, you are prompted to enter a diagnosis code:


From the Manage Today's Appointment window, click Save Changes to continue with the appointment, or Complete Appointment after entering any final notes, and to mark the appointment complete.
Clinical Notes Templates
Select Add to Chart > Clinical Note to add a customized clinical note to the Clinical Chart (EMR). A starter set of oral-surgery specific templates is included with the Oral Surgery package. Use them to create your own customized correspondence, and click the green star to mark your favorites.
Note: Base templates cannot be edited, but you can customize and save them under a new name.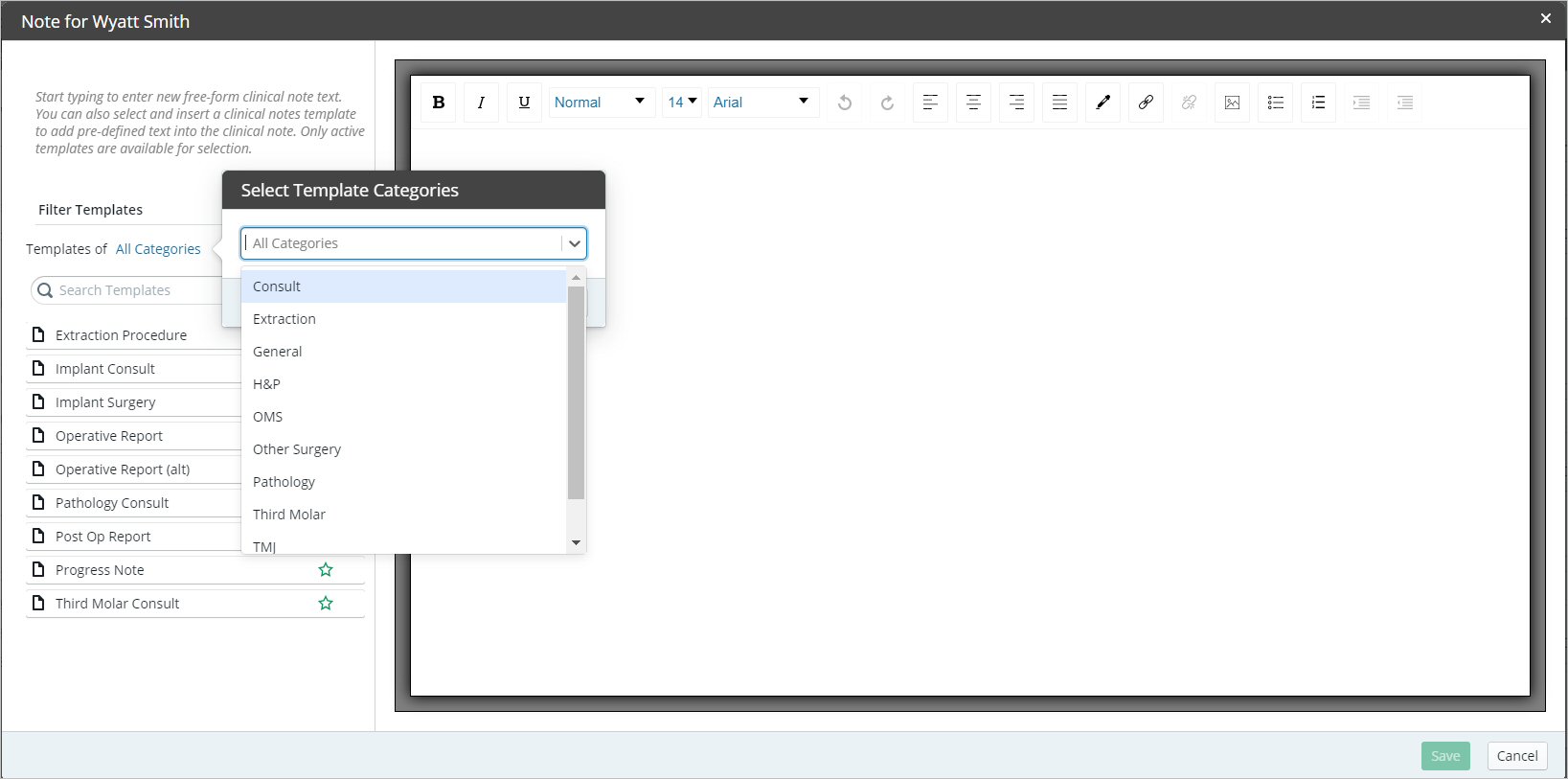 To access the list of templates, select Administration > Templates > Clinical Notes Templates. From that screen, you can view the list of base/stock templates, copy a template to customize and save it under a unique name, edit customized templates, and change the status of a stock template to Inactive to hide it from the list.
Vital Signs
Select Add to Chart > Vital Signs to record the patient's vital signs. For more information, see How to Enter a Patient's Vital Signs.
Prescriptions
Select Add to Chart > Prescription. For more information, see How to Issue a Patient Prescription.
Treatment Plans
Select Add to Chart > Treatment Plan. For more information, see How to Create or Edit a Patient Treatment Plan.